Tire Rotation Service in Oklahoma City, OK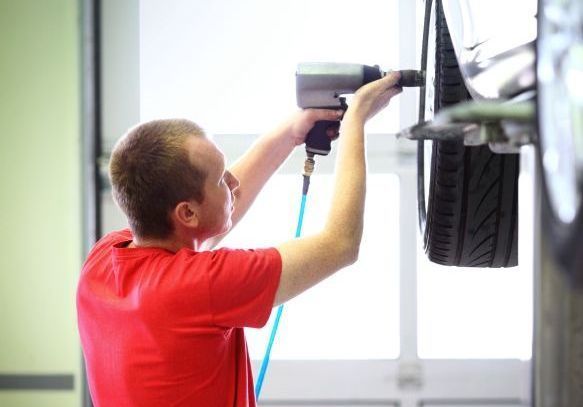 If you are looking to save some money over time, it is definitely a good idea to invest in a tire rotation here at David Stanley Chevrolet. An often overlooked maintenance, getting this service completed will not only heighten the performance of your vehicle but also increase the life on your current set of tires. Having top-notch tread on your rubbers is essential for proper traction and the safety of you, your passengers, and fellow drivers on the road. We provide flexible business hours for your utmost convenience, so stop by soon!
The fact that tires wear is an inevitable aspect of owning a vehicle and can certainly be expected with the constant use on your everyday commutes. Since they erode unevenly, a tire rotation helps to distribute the wear, and in turn, improve the lifespan of your current set. When you pull into our service bay, our technicians will take a close look at the tread on your rubbers and assess the best configuration to rotate them. The front set usually handles most of the wear as it takes the brunt of the force during turns, bumps, and potholes. Because of this, it is very common to switch the front to the back and vice versa.
Once we gauge the prime positioning to get you back on the road with top-notch traction, we'll be sure to take a look at your tire pressure to make sure that they are properly inflated. If not, we would be more than happy to get them filled so you can pull off of our lot with the confidence that you deserve. If you are ready to set a date and time now, navigate to the Service tab at the top of your screen and click the Schedule Appointment form. If you prefer, you can always just give us a call to speak with one of our representatives. Our phone number is 800-584-2445.
Many people are not aware that tire rotations are a vital maintenance and should be completed on a regular basis to prevent slippage on the road. It is generally recommended to bring your ride in every 3,000 to 7,000 miles to help them wear at an even rate. We know that is a pretty broad timeframe, so take a quick peek at your Owner's Manual to get a better idea of what would be the best spectrum for your vehicle.
Is it about that time for a tire rotation service in Oklahoma City, OK? Make your way to David Stanley Chevrolet today! We are located at 614 Southwest 74th Street in Oklahoma City, OK.
Service Hours
800-584-2445
| | |
| --- | --- |
| Monday | 7:00 am - 6:00 pm |
| Tuesday | 7:00 am - 6:00 pm |
| Wednesday | 7:00 am - 6:00 pm |
| Thursday | 7:00 am - 6:00 pm |
| Friday | 7:00 am - 6:00 pm |
| Saturday | 8:00 am - 1:00 pm |
| Sunday | Closed |
Testimonials
GOOGLE
October 13, 2017
GOOGLE
October 12, 2017
GOOGLE
October 12, 2017
GOOGLE
October 12, 2017
GOOGLE
October 12, 2017
GOOGLE
October 11, 2017
GOOGLE
October 11, 2017
GOOGLE
October 8, 2017
GOOGLE
October 7, 2017
GOOGLE
October 6, 2017
GOOGLE
October 5, 2017
GOOGLE
October 5, 2017
Read More